Consider the Benefits
For much less than the price of joining a leading ADR membership organisation as an advanced practitioner, you can have a Professional Listing on the ADR website. The question is not can you afford it, but if you are serious about the practice of ADR, can you afford not to promote Your practice  this way.
Instead of having your personal, contact and experience details hidden, Your Professional Listing on Accredited Dispute Resolvers will include:
Your virtual website to market your ADR practice

Your photograph and an extended profile for you to fully describe your business practice

Your business address and Google map of its location

Your CV, fee schedule or articles you want enquirers to download

a place to publish and link Your articles back to your profile to raise awareness of your skills

attract Google ratings to your 'long-tail keyword' articles to improve your profile and ranking the opportunity to

Your profile is included in every Specialist area in which you want to be found

Profiles are displayed in fixed order; first Panel members, next Professional members, then Preferred members and lastly Personal members.

Maintaining your profile will keep your ranking above people who register after you.
And you are in good company, with over 1,400 practitioners listed on the website in over 20 categories.
The search functions are one of the best features of the site. A prospective client can identify a list of practitioners by state, accrediting organisation, by gender, ADR capability, by membership level and a list of tagged skill sets, like "bankruptcy" . Or they can select a combination of factors.  The search produces advertised listings that can be viewed at a glance, not just a list of names.
Join a Panel
But there is much more, with a Panel membership you have access to a marketing and practice management toolkit.
Currently Panels are available for nine different areas of Practice which align with members' interests, market requirements and government legislation.
The focus is on Australia-wide service and Panels will include members from every state and territory and cover areas, such as: fixed price family law dispute resolution; specialist property mediations; mediation of franchising disputes under the Franchising Code of Conduct and resolution of small business disputes under recommendation from the national Small Business Ombudsman.
Your Panel listing provides the internet marketing mechanisms to assist you to do more than just provide information about  who you are but also about what you can do:
display Your availability on the internet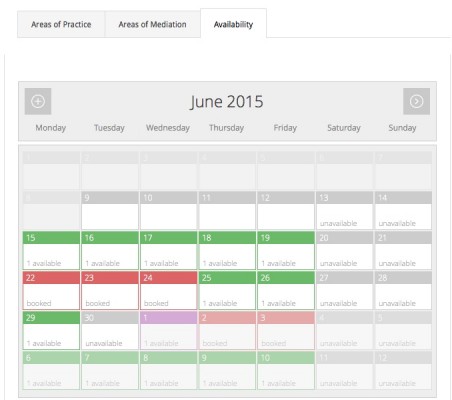 take bookings over the internet with full email notifications
employ pop-ups, slide ins and banners within your panel (one each calendar month) to draw attention, make offers and collect names and address
Direct Email
We are constantly building our own database of clients/ users/ and subscribers.  We can also include your targeted contacts.
We develop tailored mailing campaigns to send to contacts that are listed in our database, visitors to the website who register and your own recommended contacts.
We create "newsletters" that cover topics of interest to the intended recipients and send it to selected groups. That way we can get information directly to people who have an interest in receiving it.  We do NOT send blanket emails to people. We also send our email from trusted servers to avoid being accused of spamming and blacklisted.
By using sophisticated internet technology we can obtain feedback on the actions of the receiver of an email. We then use this information to test and tailor our message to reduce the risk of sending mail to people who do not want it while focussing on the people who are interested in what services and information you provide.
Indirect expert Articles
People use Google to find out information and obtain advice about things they need help with.  They are not searching for you but your information.
When you subscribe to a Panel Listing, we will publish your informative articles and link them back directly to your profile page at ADR.org.au.  By  publishing short (800-1200 word) informative, authoritative articles about the area in which you specialise (say, for example, farm debt mediation) they will find your article and so they will find you.
We have established a separate but companion website, where we publish these articles about Dispute Resolution processes in Australia, see:  www.disputeresolution.com.au
   [symple_button color="red" url="http://adr.org.au/choose-your-listing" title="CHOOSE YOUR LISTING" target="blank" border_radius=""]CHOOSE YOUR LISTING[/symple_button]